Augsburg is the third largest city in Bavaria and is part of one of the most famous Tourist Routes in Germany, the Romantic Route.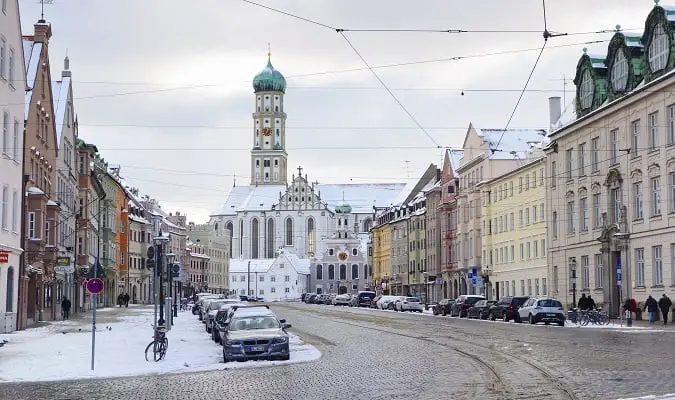 Augsburg Germany
1 day in Augsburg Germany
Start the day by visiting the Augsburg Cathedral, one of the city's main attractions founded in the 11th century.
Follow to the Rathausplatz, a square in the old center where the famous Rathaus (City Hall), one of the symbols of the city is located.
Next to the Rathaus is the Perlachturm, a 70-meter tower that offers panoramic views of the city. Walk to Maximilianstrasse, the city's most elegant street full of shops and restaurants.
At Maximilianstrasse you will find the Herkulesbrunnen Fountain and also the Schaezlerpalais, an old Rococo-style mansion that now houses the Neue Galerie.
Located 400 meters from the Schaezlerpalais is St. Ulrich and Afra.
Another important attraction of the city is the Fuggerei. The community consists of 67 buildings, 140 residences and a church. It is the oldest social housing complex in the world that still in use.
The Fuggerei Museum displays the lifestyle of earlier times. And shortly after World War II, a bunker was erected in Fuggerei. Texts, photographs, films, exhibitions document the bombing and reconstruction of Augsburg.
The Mozarthaus located 1.1 km from the Fuggerei, is a museum with exhibitions that offer a glimpse into the life of the Mozart family.
Things to see
Augsburg Cathedral
Rathaus
Perlachturm
Maximilianstrasse
Schaezlerpalais
Basilica of St Ulrich and Afra
Fuggerei
Mozarthaus
Distances
Augsburg Cathedral – Rathaus – 500 meters
Rathaus – Perlachturm – 22 meters
Perlachturm – Maximilianstrasse – 400 meters
Maximilianstrasse – Schaezlerpalais – 88 meters
Schaezlerpalais – Basilica of St Ulrich and Afra – 400 meters
Basilica of St Ulrich and Afra – Fuggerei -1,3 km
Fuggerei – Mozarthaus – 1,1 km
Itinerary Map
Tourist Information Centre in Augsburg
Am Rathausplatz 1, Augsburg
Site: www.augsburg-tourismus.de
Germany Travel App
Download our free app and start planning your trip to Germany!
Discover more than 40 destinations in Germany, Book Hotels, Trains, Search Flights.
See also