Augsburg is the third-largest city in Bavaria and is part of one of the most famous Tourist Routes in Germany, the Romantic Road.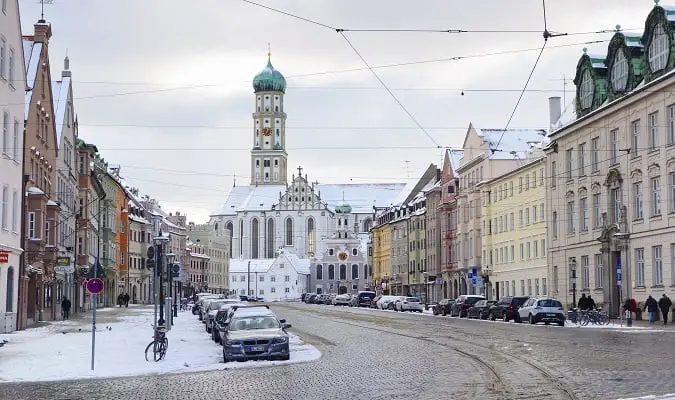 Augsburg Germany
How to spend 1 day in Augsburg Germany
Start the day by visiting the Augsburg Cathedral, one of the city's main attractions founded in the 11th century.
Follow to the Rathausplatz, a square in the old center where the famous Rathaus (City Hall), one of the symbols of the city is located.
Next to the Rathaus is the Perlachturm, a 70-meter tower that offers panoramic views of the city. Walk to Maximilianstrasse, the city's most elegant street full of shops and restaurants.
At Maximilianstrasse you will find the Herkulesbrunnen Fountain and also the Schaezlerpalais, an old Rococo-style mansion that now houses the Neue Galerie.
Located near the Schaezlerpalais is St. Ulrich and Afra.
Another important attraction of the city is the Fuggerei. The community consists of 67 buildings, 140 residences, and a church. It is the oldest social housing complex in the world that still in use.
The Fuggerei museum displays the lifestyle of earlier times. And shortly after World War II, a bunker was erected in Fuggerei. Texts, photographs, films, exhibitions document the bombing and reconstruction of Augsburg.
The Mozarthaus located 1.1 km (0.7 miles) from the Fuggerei, is a museum with exhibitions that offer a glimpse into the life of the Mozart family.
Things to see
Augsburg Cathedral
Rathaus
Perlachturm
Maximilianstrasse
Schaezlerpalais
Basilica of St Ulrich and Afra
Fuggerei
Mozarthaus
Itinerary Map
Sights in Augsburg
1. Augsburg Cathedral
The Augsburg Cathedral is a Roman Catholic church. It intrigues visitors with impressive frescos.
It was founded in the 11th century.
Frauentorstraße 2, 86152 
2. Rathaus
Rathausplatz
The Town Hall of Augsburg (Rathaus) is one of the most significant secular buildings of the Renaissance style north of the Alps.
It is the city´s landmark built by Elias Holl from 1616 to 1620.
Rathausplatz 2, 86150
3. Perlachturm
The Perlachturm next to the Town Hall offers a spectacular panoramic view of Augsburg.
Rathausplatz, 86159
4. Fuggerei
The Fuggerei was founded in 1521 by Jakob Fugger.
It is the world's oldest social housing complex still in use. It encompasses 67 houses with 140 apartments.
Jakoberstraße 26, 86152
5. Maximilianstrasse
Maximilianstrasse is a street in the heart of Augsburg.
The magnificent fountains with precious bronze sculptures and the Schaezlerpalais are located on Maximilianstrasse street.
6. Schaezlerpalais
The Schaezlerpalais was built between  1765-1770.
It is a magnificent Baroque palace, today Germany's most significant Baroque gallery.
Maximilianstraße 46, 86150
7. Basilica of St. Ulrich and Afra
The Basilica of St Ulrich and Afra is a catholic parish built in the architectural styles of Renaissance and Baroque. Includes the tombs of diocesan saints Afra, Ulrich, and Simpert.
Ulrichspl. 19, 86150 
8. Botanischer Garten Augsburg
The Botanischer Garten Augsburg is a municipal botanical garden. The garden contains a Japanese garden.
Dr.-Ziegenspeck-Weg 10, 86161
9. Mozarthaus
The Mozarthaus is a museum that shows the life of the Mozart family.
The exhibits include books, letters, original musical scores, as well as a beautiful collection of historical musical instruments.
Frauentorstraße 30, 86152
Where to stay in Augsburg
1. Steigenberger Drei Mohren
©Steigenberger Drei Mohren
The Steigenberger Drei Mohren is located on Maximilianstrasse close to the Schaezlerpalais.
Each room is equipped with a flat-screen TV and minibar.
The hotel has a sauna and fitness center.
Maximilianstraße 40, 86150
2. Dorint an der Kongresshalle Augsburg
©Dorint an der Kongresshalle Augsburg
The Dorint an der Kongresshalle Augsburg is located close to the University of Augsburg.
Each room is equipped with a flat-screen TV and minibar.
The hotel has a sauna and fitness center.
Imhofstraße 12, 86159
3. Ringhotel Alpenhof
©Ringhotel Alpenhof
The Ringhotel Alpenhof is located in the north area of Augsburg close to A8.
Each room is equipped with a flat-screen TV and minibar.
The hotel has a sauna and swimming pool.
Donauwörther Str. 233, 86154
4. IntercityHotel Augsburg
©IntercityHotel Augsburg
Located next to Augsburg train station, the IntercityHotel Augsburg offers excellent value for money.
The rooms have a flat-screen TV and a minibar.
Halderstraße 29, 86150 Augsburg, Germany
Shopping Streets in Augsburg
The Annastrasse and Bürgermeister-Fischer-Strasse shopping district is a pedestrian area full of shops and restaurants.
There are many department stores and small shops.
Maximilianstrasse has many charming boutiques and wine shops surrounded by architectural wonders of the Renaissance and Baroque styles.
Malls and Department Stores in Augsburg
1. Karstadt
Karstadt is a German department store chain with many stores in Germany.
The company features brands like Cacharel, Clarins, Coach, Desigual, Estée Lauder.
Bürgermeister-Fischer-Straße 6-10, 86150
2. City Galerie Mall
The City Galerie Mall is located on Willy-Brandt Square.
Brands: Zara, New Yorker, Only.
Willy-Brandt-Platz 1, 86153
Plan your Trip
Augsburg has easy train access from various cities in Germany. Famous cities nearby: Munich, Bamberg, Stuttgart, Rothenburg ob der Tauber.
Distances
Munich – 57 km (49.6 miles)
Bamberg– 204 km (127 miles)
Stuttgart – 164 km (102 miles)
Rothenburg ob der Tauber – 186 km (116 miles)
Tourist Information Centre in Augsburg
Am Rathausplatz 1, Augsburg
Site: www.augsburg-tourismus.de
Germany Travel App
Download our free app and start planning your trip to Germany!
Discover more than 40 destinations in Germany, Book Hotels, Trains, Search Flights.
Book Your Trip
Book Your Accommodation
Book your hotel with Booking.com as they consistently provide the cheapest and lowest rates.
Book Your Flight
Find cheap flights to Germany by using Momondo. Momondo is a flight search engine that searches a lot of different airlines, including many of the budget carriers.
Book a Train Ticket
Check the train routes and schedules with Omio. Omio is an authorized Deutsche Bahn ticket seller, which compares and combines transport options for complete flexibility.
Don't Forget Travel Insurance
Travel insurance will protect you against illness, injury, and cancellations. It's a protection in case anything goes wrong. You can book your travel insurance with Travelexinsurance.com.
See also
10 Suggested Itineraries for Germany + Top Destinations