Baden Baden is a beautiful city in Germany located on the banks of the Black Forest.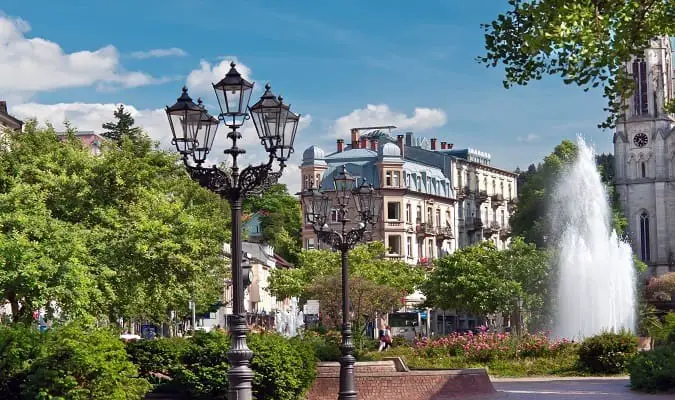 Baden Baden Germany
2 days in Baden Baden Germany
On this 2-day itinerary in Baden Baden, discover the main attractions of the city.
Day 1 in Baden Baden
Start the day by visiting the Stiftskirche one of the attractions of the old city center.
Follow to the Ruins of Roman Bath, the 2,000 year old ruins are one of the oldest and best kept examples of the country.
Head to Sophienstrasse, a street with a variety of shops, boutiques and shopping galleries until you reach the Kurhaus.
The Kurhaus is a spa resort, casino and conference complex and the Kurgarten is the cultural center of the city with numerous boutiques, galleries and cafes.
Trinkhalle from the 19th century is part of the Kurhaus complex.
Head to Stourdza Kapelle (1.863-1.866) built in white, red and brown sandstone.
Located 750 meters from Stourdza Kapelle is the Opera House (Festspielhaus), one of the largest classical music venues in Europe. The building has a unique architecture.
For views of the city and Black Forest head to the ruins of Altes Schloss Hohenbaden.
Things to see
Stiftskirche
Roman Bath Ruins
Sophienstrasse
Kurhaus and Kurgarten
Trinkhalle
Stourdza Kapelle
Opera House
Altes Schloss Hohenbaden
Distances
Stiftskirche – Roman Bath Ruins – 250 meters
Roman Bath Ruins – Sophienstrasse – 270 meters
Sophienstrasse – Kurhaus – 300 meters
Kurhaus – Trinkhalle – 130 meters
Trinkhalle – Stourdza Kapelle – 850 meters
Stourdza Kapelle – Opera House – 750 meters
Opera House – Altes Schloss Hohenbaden – 2,9 km
Day 2 in Baden Baden
Start the day by visiting Caracalla, a spa located in an area of over 4,000 m². The place is ideal for relaxing and bathing in the thermal waters.
Head to the Paradies, a fountain complex and waterfalls built in 1.925. The Garden of Roses is a beautiful garden located 2.2 km from Paradies.
The Russian Church is another attraction with its golden dome.
Located 550 meters from the Russian Church is the Lichtentaler Allee, a historic park and city's Botanical Gardens.
Things to see
Caracalla
Paradies
Rosenneuheitengarten
Russian Church
Lichtentaler Allee
Distances
Caracalla – Paradies – 1,1 km
Paradies – Rosenneuheitengarten – 2,2 km
Rosenneuheitengarten – Russian Church – 1,8 km
Russian Church – Lichtentaler Allee – 550 meters
Itinerary Map
Tourist Information Centre in Baden Baden
B500, Baden Baden
Site: www.baden-baden.de
Germany Travel App
Download our free app and start planning your trip to Germany!
Discover more than 40 destinations in Germany, Book Hotels, Trains, Search Flights.
See also